From the "better late than never files" here is the wrap up for the inaugural Bald Hill Open played at Bald Hill on January 30.
What a huge weekend of disc golf it was.  Disc golf in Victoria has taken a huge step forward with two large events in one weekend.  Both the Bald Hill Open, and the Golden City Classic sold out with a tremendous amount of new and talented players.  There were 29 players who played both tournaments.  The TDs for these tournaments decided to celebrate this by putting together a cache of raffle prizes to be drawn at the GCC for players who played both tournaments.  The major prize was a Berg Bag.  A very well deserving junior, Ryan Hart ended up receiving that to everyone's delight.
The Bald Hill Open was a joint venture between the Melbourne Disc Golf Club and Bergs Disc Sports.  The TDs were Mike Spangenberg and Jeff Brunsting.  The event saw 50 players across 9 divisions battle it out.  That is a fantastic result.  Thanks to everyone who played and in particular those who came from other states to play.  We had players from Qld, NSW and quite a few from SA.  The course was designed to be beginner and intermediate friendly while giving the advanced and pro players a chance at setting some incredible course records.  It was great to have a brand new hole and a twist on another.  It really helps keep the play fresh and new.  The TDs did a fantastic job of delivering a quality event. The event was well supported by a great mix of sponsors from local players and businesses to clubs and suppliers around Australia. The full list is below.  Thanks to everyone who sponsored and all of those who helped with set up and breakdown.
It was a little bit disappointing that the event wasn't officially opened by the mayor of Kingston as planned but there was a problem on his side. That disappointment was more than made up for with the special presentation of Lifetime membership to Gail Lynch during the lunch break. MDGC is so happy to acknowledge Gail's many year's of service to the sport and the club with this small token of our appreciation.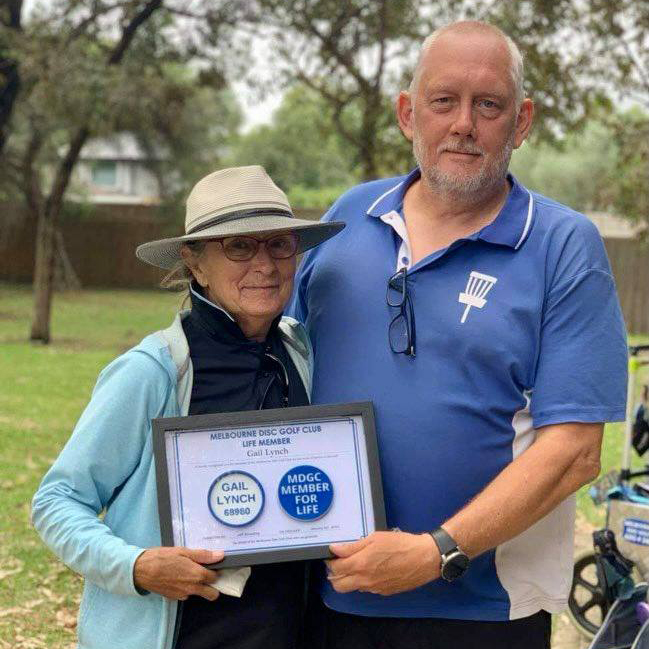 In addition to some generous pay-outs to the divisional winners and runners up there were 8 CTPs up for grabs in each of the rounds.  Thanks to Darren Stace Smith, Gail Lynch and the Melbourne Disc Golf Proshop for supplying some great prizes for that.  There was also a very special trophy that was supplied by Gail Lynch and will be used as a perpetual trophy for the best Amateur women at the Bald Hill Open for years to come. The first name on that trophy will be Emma Winkworth.  Congratulations Emma!
The 2021 Bald Hill MPO champion is Dylan Feldman with a score of -16 just ahead of the David Perry and Daren Stace Smith both on -15. Congratulations on some fantastic rounds. The other divisional winners are as follows.
Congratulations to the Bald Hill Open Winners!!
MPO Dylan Feldman
FA1 Emma Winkworth
MA1 Jay Ros
MA2 Chris Scott
MA4 Calham Dower
FA4 Janet Ford Adams
MJ 15 Sean Maisey
MM40 Glen Maisey
MG50 Michael Spangenberg
Thank you to all of our generous sponsors!!
MDGC Pro, Fidget mini, JABPDM, Outright Plumbing, RPM, Darrens Dyes, Portal Discs, Emma Winkworth, Gail Lynch, Doug's Disc Recovery, Bergs Bags, Hobart Disc Golf, Patrick Utri, RAD, Flying Disc Store, MGDGC, SA Disc Golf, Working Dogs Australia, Dylan S. IceBerge TV, Allen Bundy Brunsting