Disc Golf has gained so much popularity in the past 18 months.  It would be difficult not to find an event happening somewhere nearby.  And nearby for those who truly love the sport sometimes means travelling a couple of hours to a course or catching a flight to an interstate course to catch up with friends and compete in tournaments.
Last weekend we had members from MDGC travel to Adelaide for the South Australian Open / Women's Global Event, to Geelong for the Women's Global Event and then there were those who decided to stay at home and attend our monthly social event at Bald Hill Park.
Thirteen Melbourne Disc Golf Club members made the journey to Adelaide to battle it out in the SA Open.  We were strongly represented in MPO, MA1 and MA50,MA2, FA1 and FA65.
The weather was kind for the most part with some patches of rain but a mostly wind free and mild temperatures.   Round one saw the hot score of the weekend of nine under par by South Australia's Gareth Morgan which eventually saw him hold on to take out MA1.  Patrick Utri from MDGC followed in second place and Hayden McPherson from South Australia in third.
Round two saw Tim Bohan heat up and shoot an eight under par, bogey free round to secure first place in the MPO division.  Dylan Spangenberg took second place and third place went to Cam Ford.
A special mention goes to Emma Winkworth who was in a hard fought battle in the FA1 division for the majority of the weekend.  She couldn't hold off the dynamic duo of Sarah Lee and Alice Si but managed to play a great final 9 in the Women's Global event to finish second.
The MA50 division saw a grudge match between Melbourne Disc Golf's, Carey Edwards, Jeff Brunsting and Mike Spangenberg.  Carey managed to play a 'lights-out', 941 rated, first round which set him up to take the win comfortably and Jeff ended up holding off Mike by three strokes for second.
Gail Lynch played well throwing above her rating for all rounds to bring home the FA65 trophy.
Congratulations to all and to the South Australian crew for hosting such a great event.
Closer to home, David Perry played some great disc golf to take second in the MPO division at the WGE in Geelong behind Dylan Feldman.  There was just three shots separating them .  Chris Ronalds came in third.
The scoring was even closer in MA2 with Tarron Anderson missing out on first place by just two shots behind James Meddings.
Those who stayed home enjoyed two rounds at our monthly social League.    The weather was spectacular and there were some solid scores!
The best Raw Score for the day went to Glenn Maisey on 50 (8 under par).  That score was enough to also secure the handicapped winner spot as well.  Glenn very narrowly pipped Dan Bradshaw in second position.  Dan isn't going home empty handed though, as he has sniped the CTP prize with a brilliant flex forehand on hole eight, putting it a mere couple metres away from the pin!
Darren Stace-Smith hosted a free clinic during the lunch break, something we are hoping to do at all of our social days.  These clinics are a great opportunity to pick up a few tips and improve your form, whether you are new to the game or an experienced player.
The highlight for the weekend was seeing so many women competing in the Global Women's Event.  This event attracted well over 3000 women globally with over 80 in Australia at seven different events .  This is a huge increase on previous events.
The action continued this weekend with the monthly social day at Ruffey Lake Park.  Unfortunately the forecast for the morning was bleak with rain and hail.  Registrations were few so the decision was made to cancel the morning round.  In true Melbourne fashion the weather improved albeit still rather windy with occasional showers which was not enough to stop 21 intrepid souls who braved the conditions.  Score-wise, some regretted it but the chance to play made it all worthwhile.
One person who definitely didn't regret making the trip to Ruffey was Darren Stace-Smith who aced hole ten with his prized, custom-dyed Justice.  Congratulations Darren!
Another highlight of the day was Oscar Fehlberg taking out the CTP on hole 4 with essentially the first throw of the day.
In terms of actual scoring, David Perry achieved the best raw score with a 51 (6 under par) with Oscar and Joel Stuckey close behind on 53; incidentally, Joel was the only player to get around the course bogey-free.  Holes 9 and 10 were the only ones to average under par and the pair of 3 /12 retained their reputation as being the toughest on the course.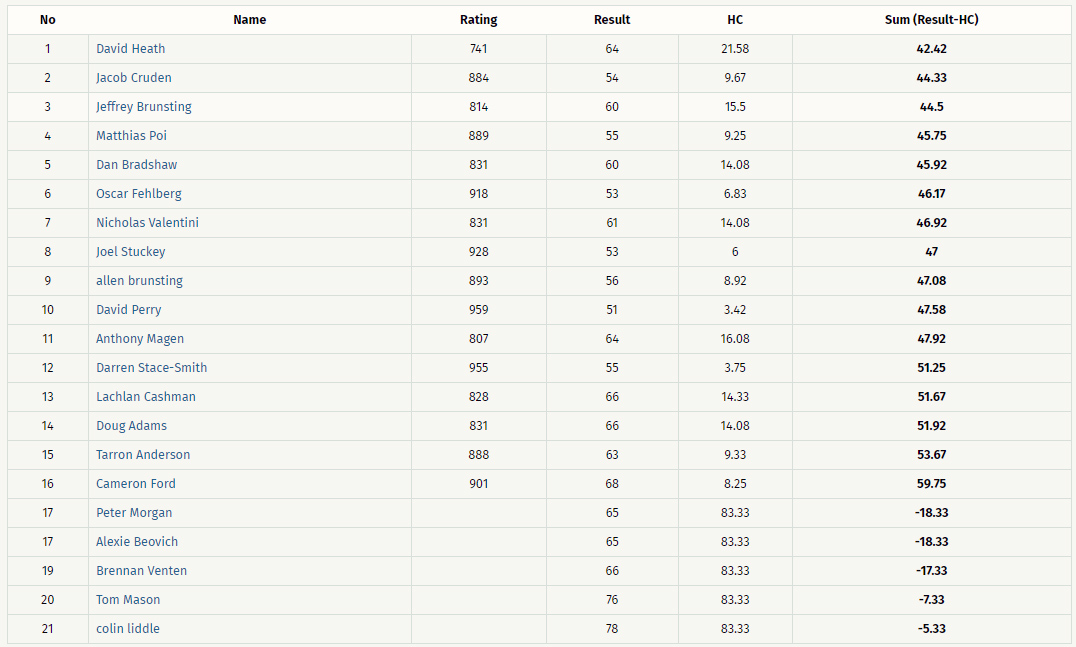 Winning on handicap, with a final score of 42.42 was David Heath, with Jacob Cruden and Jeff Brunsting a couple of shots behind.
For the year-to-day competition, Chris Scott still leads, closely followed by Dan Bradshaw and David Heath a little further back in third.
We are only half way through the month.  What other disc golf greatness will we see form our MDGC members before the end of May?