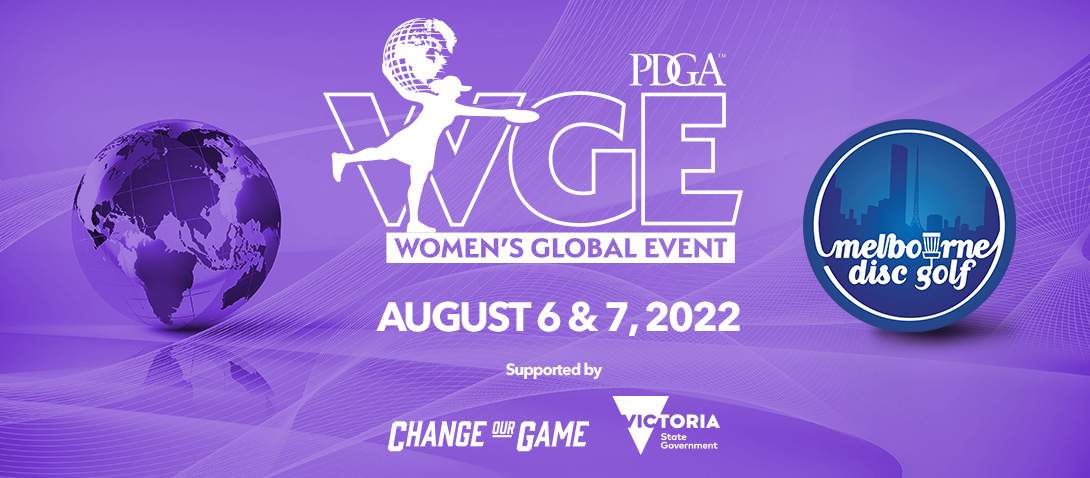 Melbourne Celebrates + WGE
Melbourne Disc Golf is excited to announce that it is going to host its first ever WGE.
It will be played at Ruffey Lake, using an amended layout to the previous 2018 Vic Open layout.
It will be capped at 100 players, with staggered start times. With this being part of the WGE (Women's Global Event), entries will be open to females for a few days prior to opening it up to all players. Entries open to females 16/5/22 at 8.00pm, and to males and females 23/5/22 at 8.00pm
Registration and Tournament info here:  https://www.discgolfscene.com/tournaments/wge_mdgc_2022
There are no other A tiers currently scheduled for August throughout Australia, so this will be a great opportunity to collect some ADG tour points. Being over the weekend, it will hopefully make it possible for interstate players to swoop up some A tier points, and possibly not miss a day of work!
For those that want more, we will have some small events during the days leading up to it. It's going to be a mid-year disc golf bonanza!! We will finalise all the details soon. 2022 is an exciting year for the club. We are setting records with membership numbers and participation rates at our mixed and women's social days. This midyear event is going to be an excellent time to celebrate that and make some really exciting announcements about the future of the club. Please save these dates so you can celebrate with us.
All players will receive a players pack.
Females who register before 1/6/22 will receive a WGE players pack (subject to availability from the PDGA). These packs are being supplied by the PDGA at a significantly reduced cost thanks to the international sponsors supporting the WGE initiative. These packs are being subsidised even further for this tournament thanks to the grant funding supplied by the Victorian Government and Change Our Game initiative.
Anyone registering for a female division after June 1 cannot be guaranteed the PDGA WGE players pack but will receive the standard tournament players pack which will also be supplied to all other amateur divisions.
Any FM pro divisions will receive the WGE players packs subject to the same restrictions as above. All other pro divisions will not receive a players pack but will be able to purchase these separately subject to availability. The price for these will be announced in the weeks leading up to the event.
Although no event policy has been written, basically it's a full refund minus the DiscGolfScene/Paypal fees, up until 4/8/22. After 4/8/22, sorry but no refund will be given, but you will still receive your players pack.
Parking is limited, enter via Church Road, Doncaster East.
For public transport, the following websites may assist:
https://www.ptv.vic.gov.au/
https://moovitapp.com/index/en-gb/public_transportation-Ruffey_Lake_Park-Melbourne-site_19316489-2803
Public toilets are available on site, a short walk from hole 1.
Course Map coming soon…
Food options in the area.
One of the closest shopping centres is Blackburn Rd, Donburn Shopping Centre. Here you should find many food outlets including Asian foods, bakery, burgers, chicken.
There is also Templestowe Village, corner of James and Anderson Streets, Templestowe. Here you should find many cafes and restaurants also.
There are also food shops at Devon Plaza Shopping Centre, 978 Doncaster Rd, Doncaster, as well as a Woolworths Supermarket.
There are also food shops at Macedon Square Shopping Plaza, corner Manningham Rd and High Street, Templestowe Lower. This also includes Crust Pizza, who offer gluten free pizzas also.
For anybody after another gluten free option which is further afield, there is also Harry's Fish And Chips, 104 Middleborough Rd, Blackburn South.
Refund policy
Melbourne Disc Golf Club is responsible for all refunds/cancellations.