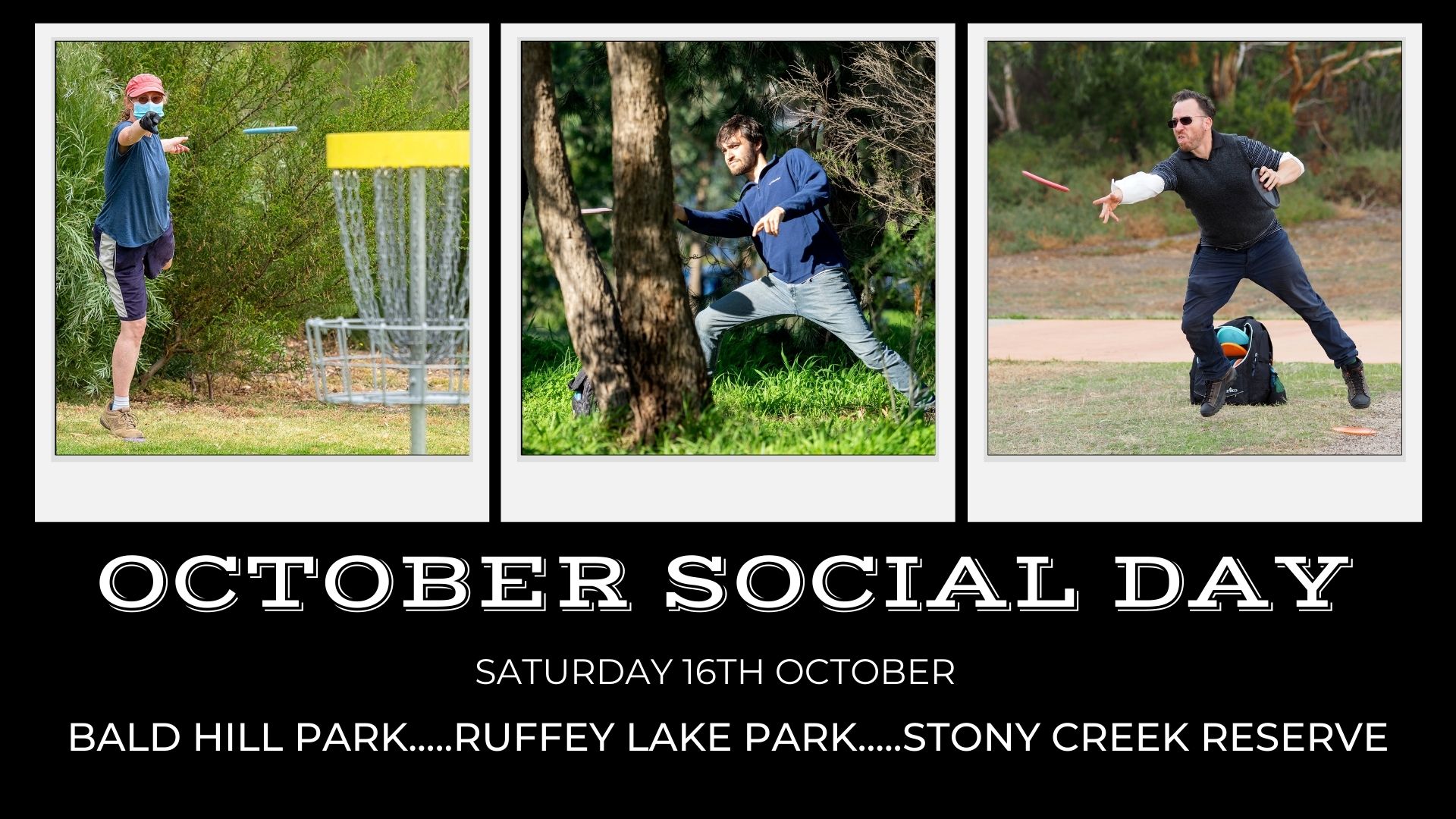 October Social Day….Ruffey Lake….Bald Hill….Stony Creek
Join us for yet another multi-venue Disc Golf Social Day this Saturday 16th October.
The regularly scheduled Social Day is at Ruffey Lake Park so we are planning to have the two rounds there starting at the normal time of 9:30.  (Please keep in mind that playing two rounds will exceed your four hours of allowed outdoor exercise.)
The events at Stony Creek and Bald Hill will start at 10:00am.  There will be one round only at each of these venues. Registration is essential by 7PM Friday night so we can organise playing groups
The links to register for all three events are below.
New players are always welcome and encouraged to attend. These social days are a great opportunity to meet other disc golfers and to pick up a few tips from our club members.  If this is your first time registering for an event, you may need to create a Disc Golf Metrix account (free)
Free for members. $10 for non-members. First time golfers play their first round free and loan discs are available.
Please arrive at your chosen venue at least 15 minutes before play.  You must check in via the QR code at hole one before proceeding to your starting hole.  COVID safe rules apply.  This includes mandatory wearing of masks and social distancing.
Hourly Schedule
Multi Venue social day, October 2021
9:00

Registration at Ruffey Lake Park

Please sign in using the QR code on hole one before proceeding to allocated starting holes
9:30

Registration at Stony Creek Park

Please sign in using the QR code on hole one before proceeding to allocated starting holes
9:30

Registration at Bald Hill Park

Please sign in using the QR code on hole one before proceeding to allocated starting holes
12:30

Registration at Ruffey Lake Park

Please sign in using the QR code on hole one before proceeding to allocated starting holes