The Melbourne Disc Golf Club and Wyndham City are working together to run a trial course at the Heathdale Glen Orden Reserve in Werribee.
It is a nine basket course separated into two main sections, a north side and south side.  After finishing hole five in the north section, you can use the path running the northeast section of the reserve to get to hole six.  An image of the course map, as well as links to the uDisc and Disc Golf Metrix course pages are also on this page.
A check-in sign will eventually be located at hole one, so please remember to check in so we can share usage details with Wyndham City.
Have fun!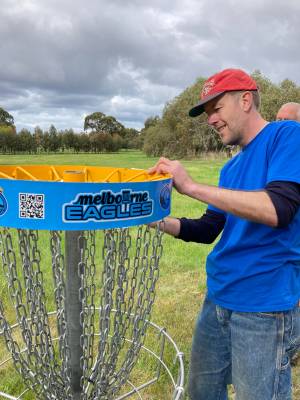 Course Map
Course map: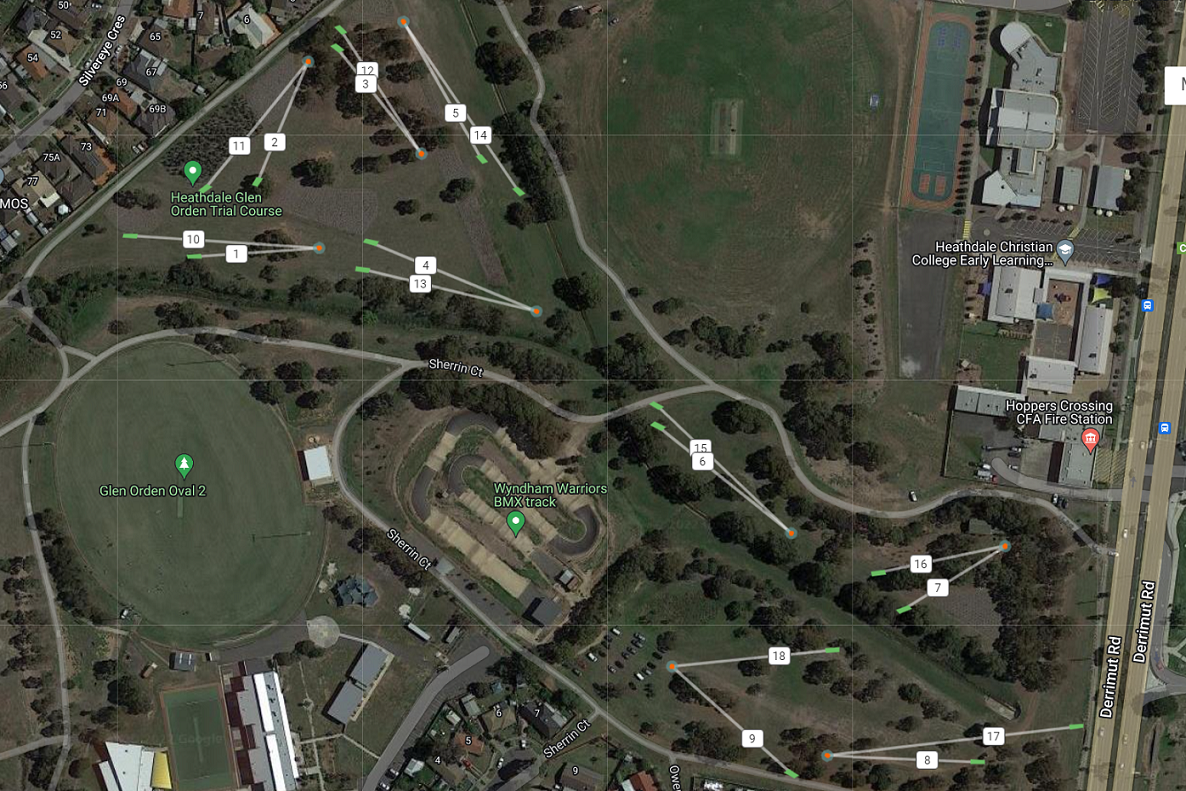 Links to Course Pages:
uDisc: https://udisc.com/courses/heathdale-glen-orden-trial-course-r4D1
Getting There
Facilities
Toilets: Public toilets will be available on Come and Try Days and other MDGC event days.  These toilets will be kept locked at all other times.
Water: Yes, there is a water source by the path near the BMX track.
What You Need To Know
Disc golf is an outdoor recreational activity played with similar rules to traditional golf. You can read about the basic rules and etiquette of disc golf HERE.
The ground is sometimes uneven and can get quite wet, so proper footwear and sporting attire is recommended.
Remember, NEVER throw if there is any chance you could hit someone else in the park. Park users ALWAYS have the right of way.
Where to Get Discs?
Disc Golf discs are now available to be borrowed from Hoppers Crossing Library to use at the Heathdale Glen Orden Disc Golf course (available until end of Summer/ March 2023). These have been kindly made available by Melbourne Disc Golf club members who have donated discs. To find out more go to Wyndham Disc Golf page: www.wyndham.vic.gov.au/heathdaleglenordendiscgolf
Environmental Considerations
MDGC and Wyndham City designed the course to avoid sensitive areas in the reserve.  The course is located away from the actual Heathdale Glen Orden Wetlands area. A preliminary environment assessment of the space was conducted and it was found to be a suitable area for disc golf. The space will continue to be monitored throughout the trial period.
We do ask, however, that anyone playing the course take note of any concerns they have for wildlife or the general surrounding environment. It's also imperative that disc golfers respect the park and the wildlife that lives there.
If you have any concerns, please contact Melbourne Disc Golf Club via email at info@melbournediscgolf.com.  Reports can also be made directly to Wyndham City here.