Did you know that… We have only 6 permanent disc golf courses across 31 council areas in Melbourne!? In the USA, a city the size of Melbourne would have more than 50 courses! Finland, with a population of just 5 million, has over 800 courses!
To grow our sport, we need more courses in more Council areas across Melbourne. To support this top priority for MDGC, the Board has established a Course Development Sub-Committee to coordinate and guide this work with multiple Councils and other landowners.
We are already seeing great results, with temporary courses in the approval process in the Wyndham, Hobsons Bay, and Dandenong Council areas for the Spring/Summer. More information will be shared about those in the coming weeks. There's also the chance we will see our summer course at Royal Park happen again.  That's on top of new permanent courses in Melton, Chelsea (Bicentenntial) and updates to our Ruffey Lake course also being approved.  That makes our current course landscape look like this: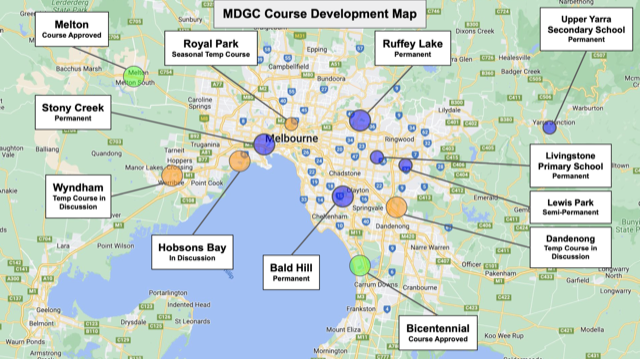 What we have learned from this process is that engaging with Councils as a club versus as one-off individuals helps us build credibility, share past experiences and gain traction faster. However, we need your help to spread the word and to engage with your local Council on why disc golf is good for your local community.
What can you do in your local area?
Contact the Sub-Committee members directly or email: CourseDev@melbournediscgolf.com and we can help you get started, support your efforts with tools/information and share our experiences as a Club in working with other Councils around Melbourne.
Take a look at this excellent NZDG web page for what makes a good disc golf green space (we have similar criteria): https://www.newzealanddiscgolf.org.nz/idealspot
Walk through the green spaces in your local area and see how busy they are and if they meet the criteria.
Investigate what programs your local Council is promoting to encourage residents to get active.
Think about any connections you have with local Council employees or Councilors?
Our initial goal with any new Council area is to support a free Come & Try Disc Golf Day for your community. This introduces the activity, brings new people to the sport and is a good initial test of a green space for a future course. MDGC has all the equipment, insurance and willing members to support Come & Try days in your local area.
Please contact any of us if you would like to get involved.
Regards
MDGC Course Development Sub-Committee:
Mike Van der Linden
Sam Stoia
Gail P. Lynch
Matthew Farina