Located in Yarra Junction, in the beautiful Yarra Ranges, the college is home to a recently installed 9 hole disc golf course. The facility is now part of the school's physical education curriculum and is available for all students in their free time. Staff at the school also enjoy the course and join students for a throw during lunch and recess breaks.
The course was designed and installed by RAD's Andrew Ferguson, who worked with the school's Principal Scott Tully to deliver the project. The course was designed to fit in with the existing activities on the school grounds, including a vineyard. The course layout weaves between two main ovals, making use of the tree lined areas and elevation in the hilly ranges. The course features nine RAD Ace permanent disc golf baskets, nine tee signs and a main sign map which displays the overall course layout and how to play information.
Despite being on a school campus, the course is accessible to the public during after school hours. Weekdays – 3:40pm onwards. Anytime on weekends. The added presence of people playing the course after hours will provide a natural added presence on school grounds and help to deter those with mischief on their minds.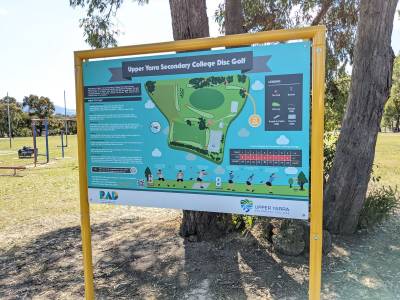 Course Map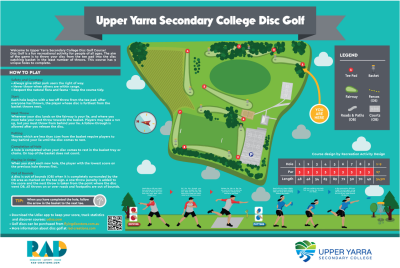 Getting There
By Public Transport
Train to Lilydale station, and then take the 683 Bus from outside the station to the stop at Riversdale Road / Warburton Highway. The course is a short 15 minute walk from that stop
Parking
Parking is plentiful on Little Yarra road or at any available and accessible parking in school carparks.
Facilities
Course: The course is located on Department of Education land and within the grounds of Livingstone Primary School, and therefore only available during outside of school hours – 3.40pm on weekdays and all weekend.
Water: Yes, there is a water source at the nearby school playground.
What You Need To Know
Disc golf is an outdoor recreational activity played with similar rules to traditional golf. You can read about the basic rules and etiquette of disc golf HERE.
The ground is sometimes uneven and can get quite wet, particularly as you walk towards the 5th basket, so proper footwear and sporting attire is recommended.
Remember, NEVER throw if there is any chance you could hit someone else in the park or on the sporting fields. Other sporting facility users ALWAYS have the right of way. If there is a cricket or football game on the main oval adjust your approach to the basket/s so that you do not encroach on the field of play.