For such a small course, Stony Creek really knows how to draw a crowd. Our March Social Day drew a total of 60 people across two sessions, our largest ever, which is just more proof that disc golf will continue to grow as a sport in 2022. From what we can tell, it was the first time attending a social day for roughly 1/6th of those in attendance. The future of disc golf in Melbourne is bright.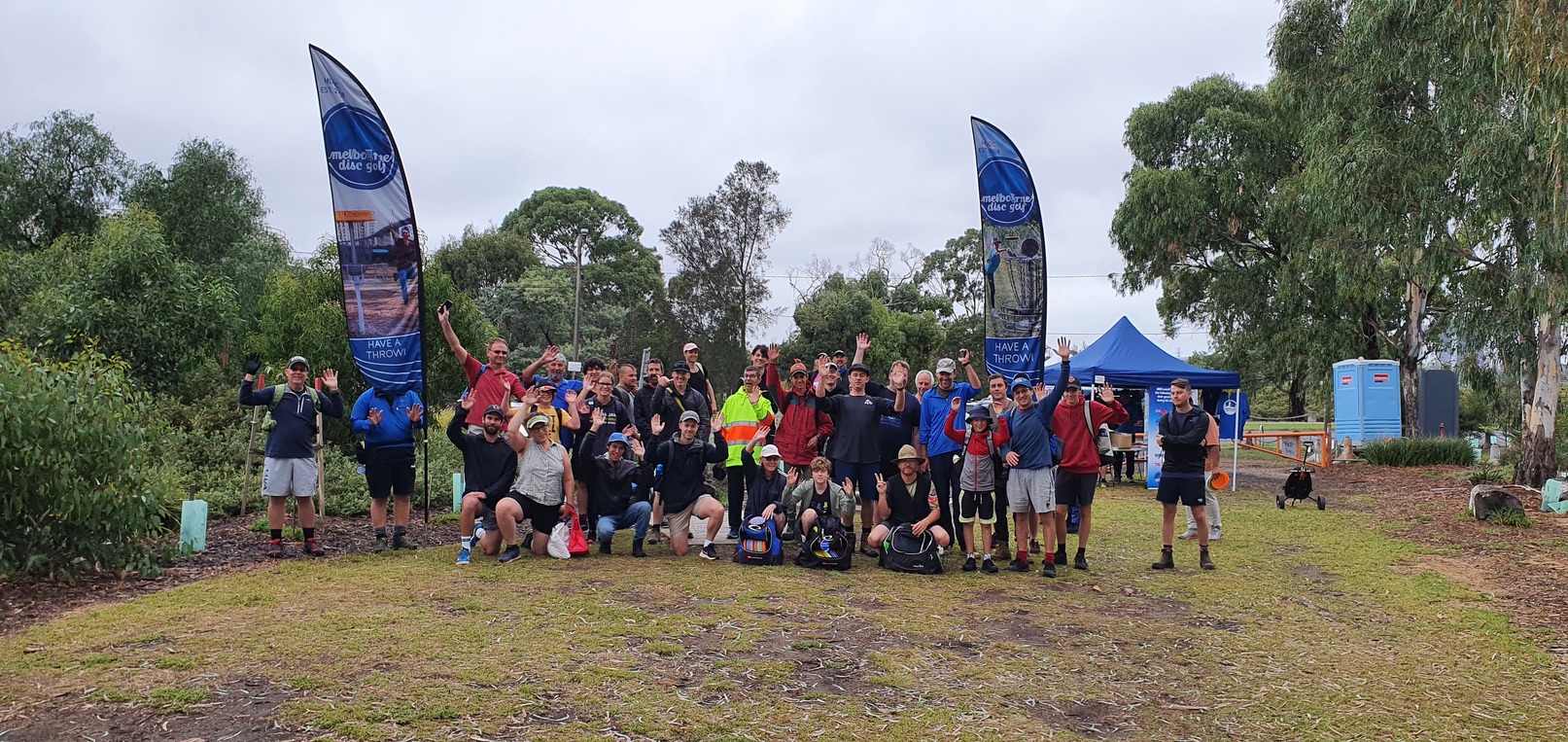 So, who took down the prizes in such a crowded field?  Read further.
The raw score was a heated battle throughout the day. Chris Ronalds and Mike Van Der Linden set very respectable scores of -7 in the early session, with Ronalds winning a CTB playoff on hole 10 to take the lead. In the later session, Matthew Farina was at -8 with just two holes to play, but tragedy struck on his second to last hole (12), and he took a double bogey on the way to finishing -6. Tip of the cap to Chris for (yet another) raw score win.
The handicap score winner was also a close race, Tobias Weber, Owen Maisey, and Brett Bobridge were all in the hunt. Tobias posted great scores on his final two holes (including the tough hole 16) to come out ahead.
Matti Pearsall stuck the landing on hole 3 to win the CTB prize for the Women's/U15 group. Matti is adding to his list of wins after also taking down the handicap score win in February at Bald Hill.
Brett Bobridge went ahead and parked hole 9 to take the CTB prize for the Open group. And not to be outdone, Brett is also coming off a handicap score win at Ruffey Lake in February.  The cream is rising to the top.
Congrats to the winners, and a huge thanks to our sponsors Warm Feet Flooring, Aus Discs, Hyzer Flight, and Fidget Mini for providing the prizes for our winners.
But the list of shout-outs don't end there.  Huge props to club members for helping to clean up litter around Stony Creek.  This is how we show our value to the rest of the community and prove that disc golf can have a net-positive impact on public parks.
More thanks yet to board members Oscar Fehlberg and Mike Van Der Linden, who held a training session for some of the many new players ahead of the later session. Club President Jeff Brunsting came in clutch, hauling a portaloo to the course for the day. Also, thanks to our Stony Creek volunteers Aaron Debuhr, Brett Bobridge, and Chris Ronalds for helping get the course ready for the day.
Finally, thanks to the Rotary Club of Yarraville for being there to cook up some free snags for the club.
Stay tuned for more news from Stony Creek, a report from our first-ever Women's Social Day will be published soon.