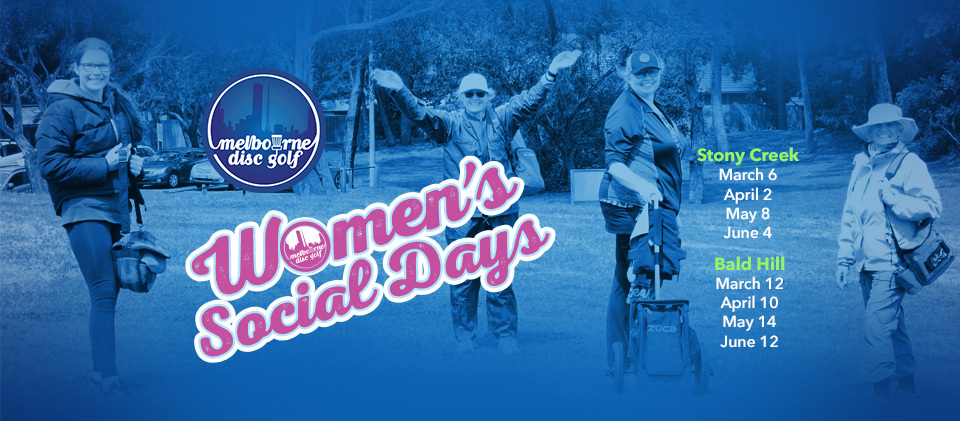 The Melbourne Disc Golf Club had a huge response to our recent preferences survey and a key response was players wanting dedicated women's events, including skills training, meet 'n greets, and learn to play clinics. We have also spoken to a lot of women players and the partners of male players about dedicated women's events and the response again has been very positive.
So, it's happening!  Join In! The first two Women's Social Days will take place in March, at the Stony Creek and Bald Hill courses.
We would like the Women's Social Days to become a regular event on the MDGC calendar, so the days and times we hold these events will be organised according to what works for the majority of the player pool. You decide.  We will come up with flexible ways to include as many players as possible.
Events will be free to MDGC members and $5.00 for anyone who would like to play casually. If it is the first event you have played with MDGC it is free. The competition is open to all ages but minors must be accompanied by an adult. We have loaner disc sets for anyone who does not have their own discs. Weekly prizes will be awarded similar to our Mixed Socials.
Not only are we looking for players in the events and skills clinics, we are also seeking people who would like to take the extra step and assist with the events and become leaders for the events. We can offer training and support for anyone who would be willing to do this, and we are hoping that by the end of season 1 we have an event that is for women and run by women. Think about it please – be the change you seek.
If you have any feedback or you would like more information, please send an email to women@melbournediscgolf.com and we will try to accommodate your requests.
Season 1 of the Women's Social Days will run until the end of June and the tentative dates are listed below. These may change to suit the majority of the player pool.
Tentative schedule:
March: Stony Creek 1st Sunday March 6, Bald Hill 2nd Saturday March 12
April: Stony 1st Saturday April 2, Bald Hill 2nd Sunday April 10
May: Stony 2nd Sunday May 8, Bald Hill 2nd Saturday May 14
June: Stony 1st Saturday June 4, Bald Hill 2nd Sunday June 12
The schedule for each round will be as follows.
12:30pm learn to play session for any new players. The sessions will run for 30 to 45 minutes.
There will be a short players meeting from 1:15pm with a planned tee off of at approx. 1:30pm. The round should take between 60-90 minutes depending on how crowded the course is.
If you are interested in playing the events, you need to register on Metrix, here's the links to the first two events:   Stony Creek on March 6 and Bald Hill on March 12. Registration opens 12 days prior to the event.
You can see the entire list of upcoming MDGC Social Days here
Not sure how to access and work through the Metrix system? We can assist with this, too. Contact Jeff on 0409 827 784 or on email women@melbournediscgolf.com.